Courtesy of First Things First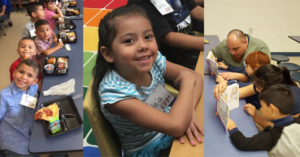 ​​A year ago, the idea of creating the first Community School in Yuma was just a faint dream to build an early connection with families whose children aren't even in kindergarten yet.
Now, as the school year begins, the First Things First Yuma Regional Council is looking forward to the culmination of months of hard work with the opening of a Community School pilot at O.C. Johnson School.
The Community School model integrates academics, health and social services, youth and community development and community engagement with the goal of improved student learning, stronger families and healthier communities.
The model stresses the importance of quality early childhood education as a critical component that helps break the poverty cycle for families.
"Early childhood is the starting place," said FTF Regional Director Rudy Ortiz. "By locating everything on an elementary school campus, it intertwines it as one. You then have health, social services and early education as part of the fabric for this community."
When the Yuma regional council members first heard the idea, they liked it and the next step was gaining buy-in from school leaders.
Follow the link here or click on the picture to continue reading the article on First Things First's website!
Category: Child Welfare, Education, Programs