Northland Family Help Center is hosting their annual youthfest concert/performance. The event will be held on Friday, April 25th from 5pm-9pm at the Orpheum Theater.
Performances by Circus Bacchus, Flagstaff Latin Dance Collective, and the Flagstaff School of Music!!
Youth resources and FREE stuff!!  Art, Music, Dance, Poetry, Drumming, activities for Youth and MORE!!
This event is to raise awareness about Runaway/Homeless youth and Child Abuse Prevention Month.
Agencies, performers, organizers, and volunteers are wanted. If you would like to get involved contact, NFHC Outreach Coordinator Brandon Rawls at (928) 707-2693 or by email: brawls@northlandfamily.org.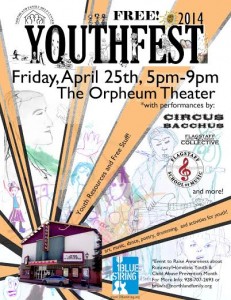 Category: Events