Flagstaff Sports Institute's Summer IPPEP Sessions are here!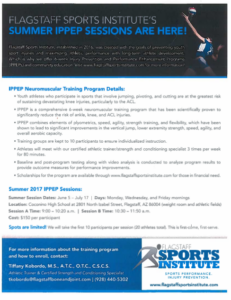 Flagstaff Sports Institute, established in 2016, was created with the goals of preventing youth sport injuries and maximizing athletic performance with long-term athlete development. Which is why we offer 6-week Injury Prevention and Performance Enhancement Programs (IPPEPs) and community education.
IPPEP Neuromuscular Training Program Details:
Youth athletes who participate in sports that involve jumping, pivoting, and cutting are at the greatest risk of sustaining devastating knee injuries, particularly to the ACL
IPPEP is a comprehensive 6-week neuromuscular training program that has been scientifically proven to significantly reduce the risk of ankle, knee, and ACL injuries
Training groups are kept to 10 participants to ensure individualized instruction
Athletes will meet without certified athletic trainer/strength and conditioning specialist 3 times per week for 80 minutes
Summer 2017 IPPEP Sessions:
Summer Session Dates: June 5 – July 17 | Monday, Wednesday, and Friday mornings
Location: Coconino High School
2801 North Izabel St
Weight and athletic fields
Session A Time: 9 – 10:20 am | Session B Time: 10:30 – 11:50 am
Cost: $150 per participant
Spots are limited! We will take the first 10 participants per session (20 athletes in total). This is first-come, first-serve.
For more information, click on the picture!