The Youth Leaders in Action (YLIA) program is a new summer volunteer program that places teens in work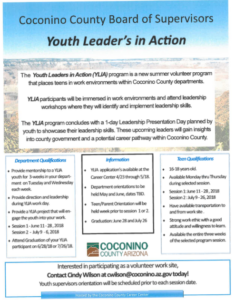 environments within Coconino County departments.
YLIA participants will be immersed in work environments and attend leadership workshops where they will identify and implement leadership skills.
The YLIA program concludes with a 1-day Leadership Presentation Day planned by youth to showcase their leadership skills. These upcoming leaders will gain insights into county government and a potential career pathway within Coconino County.
Follow the link here, or click on the picture to the right to learn more!