For young people who have experienced foster care, access to affordable health insurance is critical to their everyday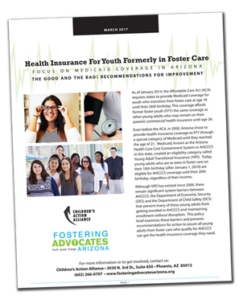 success. While Federal Law has expanded health coverage to alumni who were in foster care at age 18, there are significant roadblocks to enrolling in and maintaining coverage.
Our policy brief, Health Insurance for Youth Formerly in Foster Care – Focus on Medicaid Coverage in Arizona, examines the barriers many youth in foster care face and recommendations to ensure eligible young people can get the health insurance coverage they need to thrive in adulthood.
We also spotlight community provider Phoenix Day; their HealthLinks program provides state-wide support to youth who have aged out of foster care with immediate enrollment assistance. Call Phoenix Day at (602) 252-4911, extension 104 to help with the enrollment application.
"When I was 19 and a student at ASU, I got sick and had to go the emergency room. I was given medication and sent home. Three weeks later I got a $12,000 bill in the mail. I was shocked because I thought I had health insurance under the Young Adult Transitional Insurance (YATI) program until I turned 26. Without knowing, I had been dropped from the program. With the help of my caseworker, I reenrolled and was able to get the emergency room visit covered, but the amount of stress that it created for me was unreal." – Ray, Arizona young adult formerly in foster care
Category: Child Welfare, Health, Resources