Coconino Hispanic Advisory Council (CHAC) seeking education, career organizations to present information at second annual College & Career Resource Fair on Oct. 1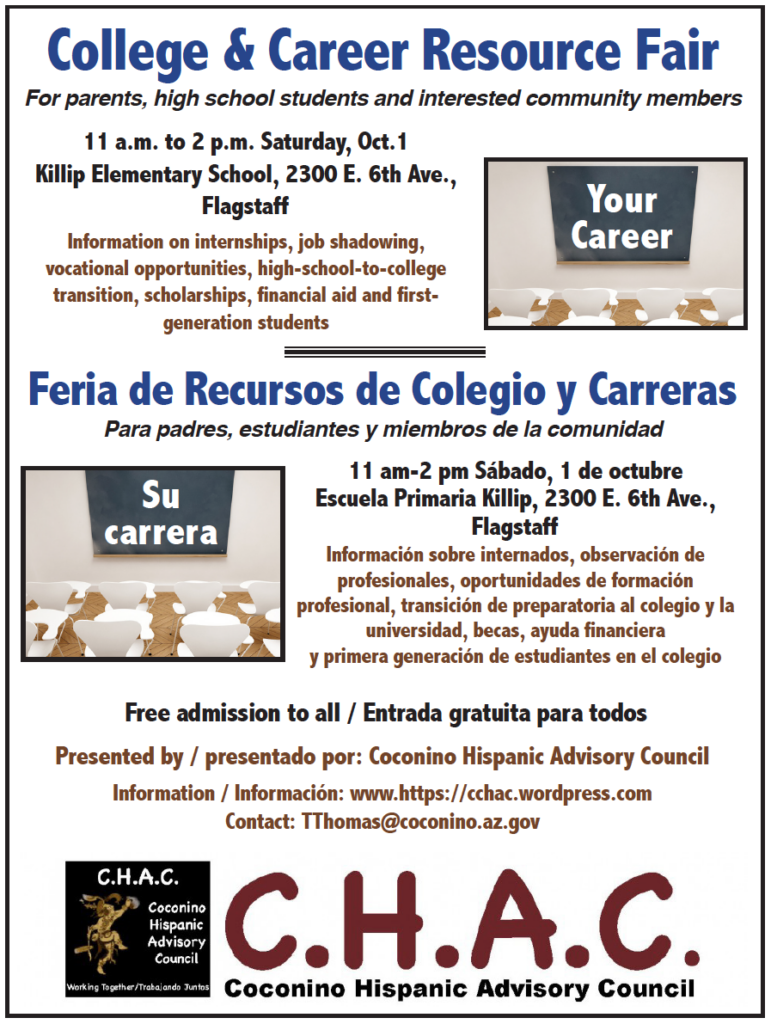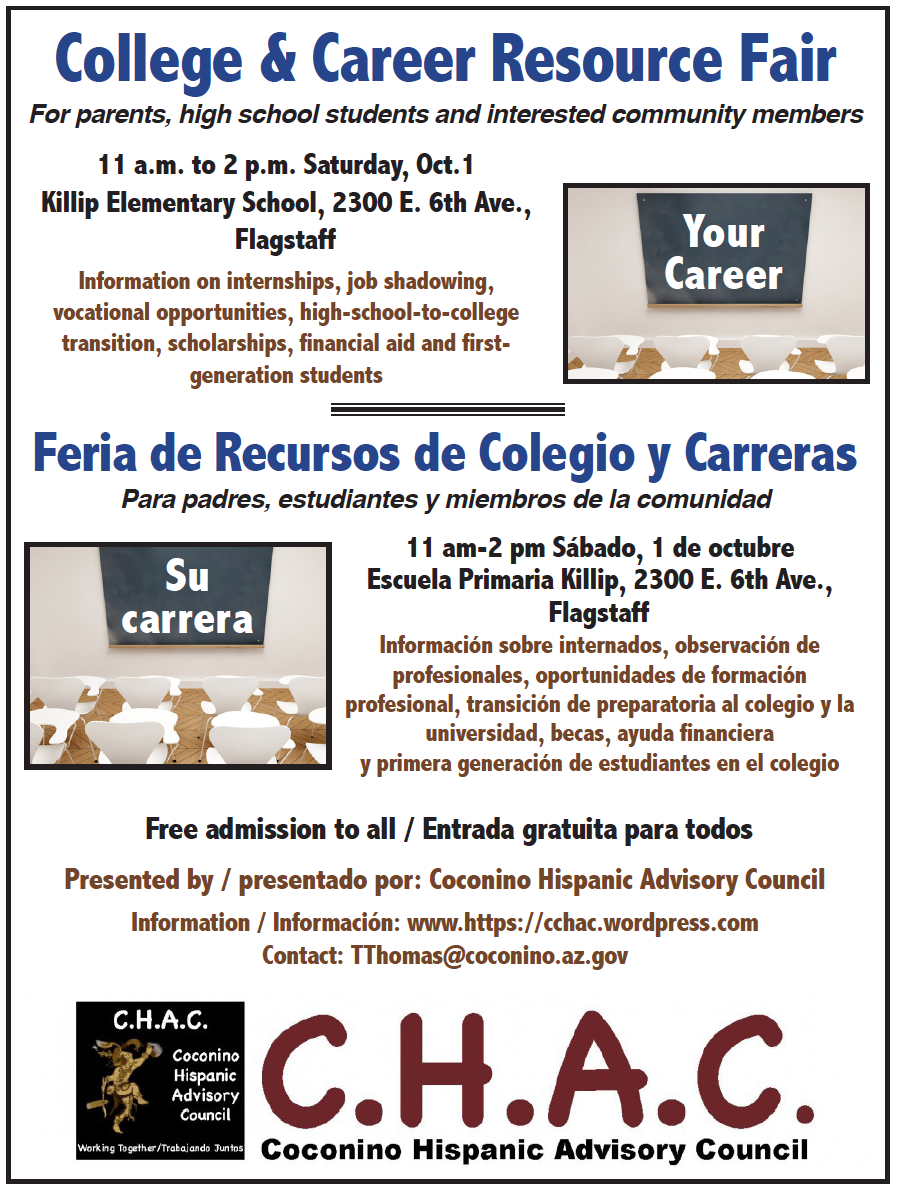 FLAGSTAFF — The Coconino County Hispanic Advisory Council (CHAC) will present its second annual College & Career Resource Fair from 11 a.m. to 2 p.m. Saturday, Oct. 1 at Killip Elementary School, 2300 E. 6th Ave., Flagstaff.
The fair, open to parents, high school students and interested community members, will offer information to help area youth prepare for employment, internships, job shadowing and high-school-to-college transition and find financial aid as they prepare for higher education and the next steps needed for their future.
Nearly 20 community organizations staffed resource tables at the 2015 event, and provided speakers at informational workshops.
The three workshops scheduled for 2016 are "Preparing for careers — Internships, job shadowing"; "Learning the basics of financial aid, scholarships — deadlines, available scholarships," and "Making the transition from high school to college — How to help first-generation college students develop skills they need to succeed."
Spanish-language translators will be available to help attendees.
"Our vision is to inform youth, their families and other community members who may show some interest in attending college either full-time or part-time sometime in the future. We would like to target young persons and their parents who may not know where to find college information. In some instances the parent's language is a barrier," stated Ruth Eaton, M.Ed, a member of CHAC.
"We have students finishing high school online or at charter schools or adult education centers or some who have delayed college for many other reasons," Eaton said. "Some students want to further their education to increase their job skills, or work on a specialized certificate. Whatever goal they have, we want to give them the opportunity to learn more about how they can find these resources."
CHAC members include Ruth Eaton, Patricia Garcia, Miguel Vasquez; Frank X. Moraga as chair and Theresa Thomas, executive assistant to Supervisor Elizabeth "Liz" Archuleta. Thomas serves as the liaison to the organization.
Organizations seeking to participate should contact Theresa Thomas at tthomas@coconino.az.gov or call (928) 679-7162 for more information.
Sincerely,
Frank Moraga, Chair
Coconino County Hispanic Advisory Council
About CHAC: The Coconino County Hispanic Advisory Council was established in 2001 with the purpose of advising the County Board of Supervisors on issues and concerns that affect the Hispanic community in Coconino County. In addition to serving as an advisory group to the County supervisors, the council has identified the following five major areas of focus:
To conduct forums on issues and concerns of the Hispanic
To promote awareness of the need for diversity in employment, training and economic
To assist Coconino County in recruiting and retaining Hispanic
To promote Hispanic culture, arts, historic activities and
To examine and make policy recommendations in the areas of education, housing, land- use, health, social services, recreation and criminal justice
Category: Education