Flagstaff Foster Adopt is excited to be hosting FREE Yoga for Mama's on 10/25!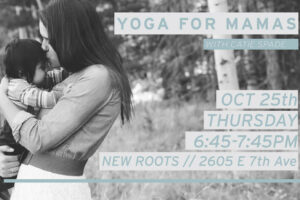 Need some time to breathe? Just lay flat on the mat and not have anyone ask for something?  Get to know other mamas in this journey and build community, or just lay on your mat and have an hour of silence – up to you!
Come be with Flagstaff Foster Adopt as Catie leads everyone in time to connect with other mamas and our bodies. Catie Spade is a certified Holy Yoga instructor. She has taught at several studios in Flagstaff teaching everything from restorative yoga to fun and fast flows! She works with Young Life full time and loves to create in her free time. Her creativity is evident in how she structures her yoga classes. All levels are welcome in her class from advanced yogis to brand new!
This is time to breathe deep and get around other women that understand and can appreciate how sweet the joy of having an uninterrupted shower is…
Please let Flagstaff Foster Adopt know if you'll be coming to this FREE yoga class so they can make sure they have enough space, REGISTER HERE. Bring an adoptive or foster mama with you, or come meet some mamas you might not know yet!
For questions, please email Kailey at flagstafffosteradopt@redemptionaz.com.
When: October 25, 2018
6:45 – 7:45pm
Where: New Roots
2605 E 7th Ave
Flagstaff, AZ 86004