Yoga practice among children improves behavior, increases concentration, relieves anxiety and stress, strengthens patience and decision making skills, and even reduces rates of obesity, among many other benefits.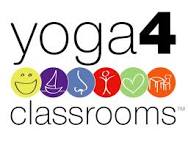 Yoga 4 Classrooms (Y4C) Professional Development Workshop is a full day workshop designed for K-12 classroom teachers, administrators, school counselors, physical education teachers, health educators, therapists, paraprofessionals and other school professionals interested in learning how to bring simple yoga and mindfulness techniques into the classroom to help promote learning-readiness and a more peaceful, productive class day. Absolutely no yoga experience is required. No yoga mat needed.
Your $160 discounted registration includes 6 contact hours, a certificate of completion, and the Y4C fully illustrated, full color manual.
SCHEDULE:
Friday, January 29th, 2016 9 a.m. to 3:30 p.m.
Flagstaff Family Resource Center, 4000 North Cummings, Flagstaff
For more information or to register, visit: yoga4classrooms.com
Use the COUPON CODE: CCCY20 for the discounted registration

To view, print, or share the flyer, CLICK HERE.
Questions? Contact CCC&Y: coalition@coconinokids.org
Category: Education, Educational Opportunities, General, Health