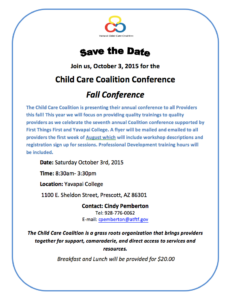 PRESCOTT — The Yavapai Child Care Coalition Fall Conference will be held from 8:30 a.m. to 3:30 p.m. Saturday, Oct. 3 at Yavapai College, 1100 E. Sheldon St., Prescott.
"The Child Care Coalition is presenting its annual conference to all providers this fall," the organization reported in a media release. "This year we will focus on providing quality trainings to quality providers as we celebrate the seventh annual Coalition conference supported by First Things First and Yavapai College. A flyer will be mailed and emailed to all providers the first week of August which will include workshop descriptions and registration sign up for sessions. Professional Development training hours will be included."
Breakfast and lunch will be provided for $20.
The Child Care Coalition is a grass roots organization that brings providers together for support, camaraderie, and direct access to services and resources.
Contact Cindy Pemberton via email at cpemberton@atftf.gov or call (928) 776-0062 for more information.
Category: Child Welfare, Educational Opportunities, Events