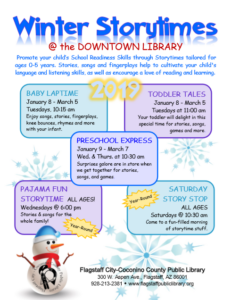 Promote your child's School Readiness Skills through Storytimes tailored for ages 0-5. Stories, songs and fingerplays help to cultivate your child's language and listening skills, as well as encourage a love of reading and learning.
Baby Laptime: Enjoy songs, stories, fingerplays, knee bounces, rhymes and more with your infant!
Family Read and Sing: Bring the whole family in to enjoy a morning or stories, songs, puppets, and more!
Toddler Tales: Your Toddler will delight in this special time for stories, songs, games, and more.
…and more! Click on the picture to the right or follow the link here to learn more about Winter Storytimes and when each activity is offered.