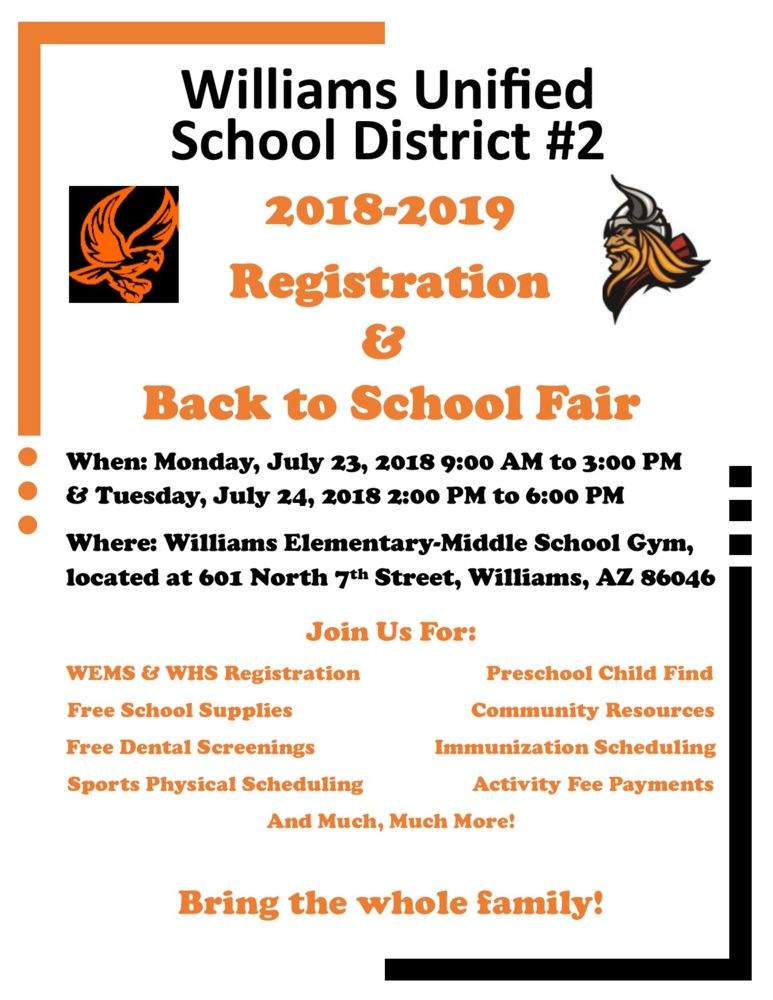 By CCC&Y
WILLIAMS — The Williams Unified School District's Back-To-School Registration Fair will be held from 9 a.m. to 3 p.m. Monday, July 23 and 2 to 6 p.m. Tuesday, July 24 at the Williams Elementary-Middle School Gymnasium. The event will be one of the first of such back-to-school events in Coconino County.
Join us for:
WEMS & WHS Registration
FREE School Supplies
FREE Dental Screenings
Immunization Scheduling
Administration Meet & Greet
More…
Send an email to adorris@wusd2.org for more information.
***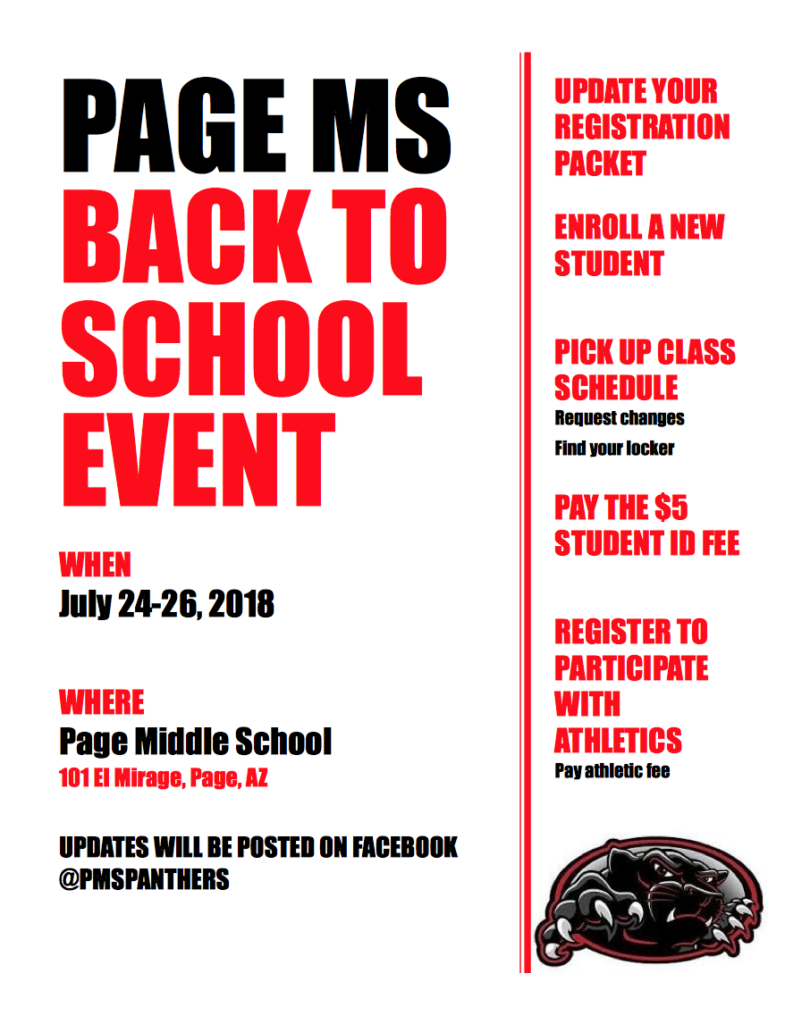 PAGE — Page Middle School will hold its "Page MS Back to School Event" on July 24 through 26 at Page Middle School, 101 El Mirage, Page.
Update your registration packet
Enroll a new student
Pick up a class schedule
Pay the $5 Student ID fee
Register to participate with athletics (Pay athletic fee)
Updates will be posted on Facebook @PMSPANTHERS
***
FLAGSTAFF — Coconino County is introducing "Super Service Saturday" Aug. 11, Sept. 8 to provide the public with a one-stop location for a variety of their needs.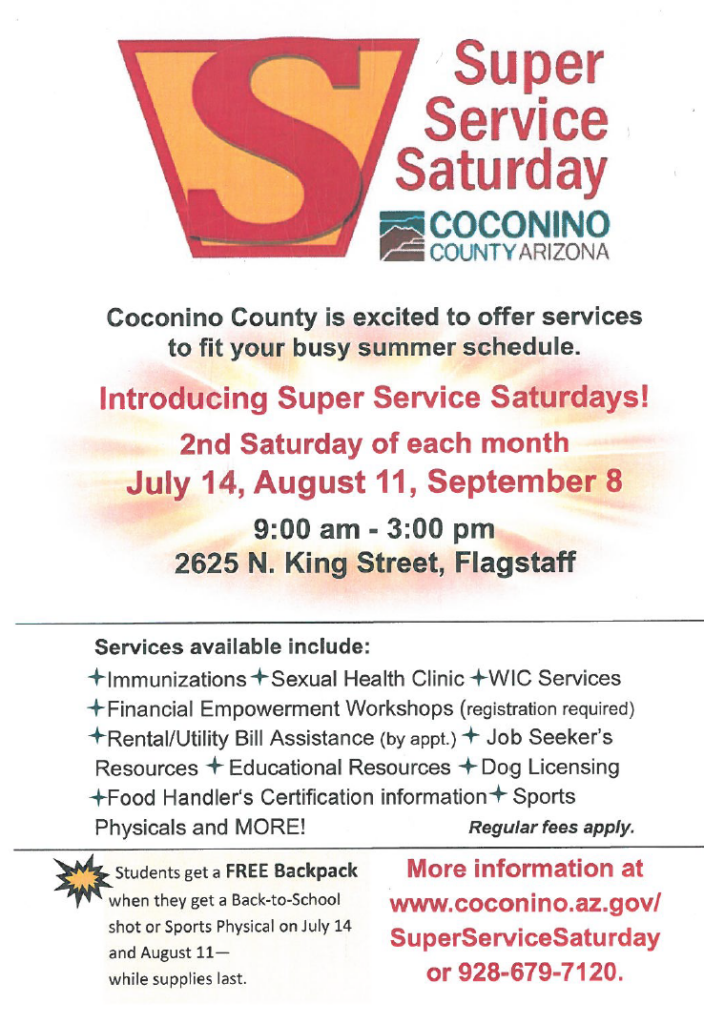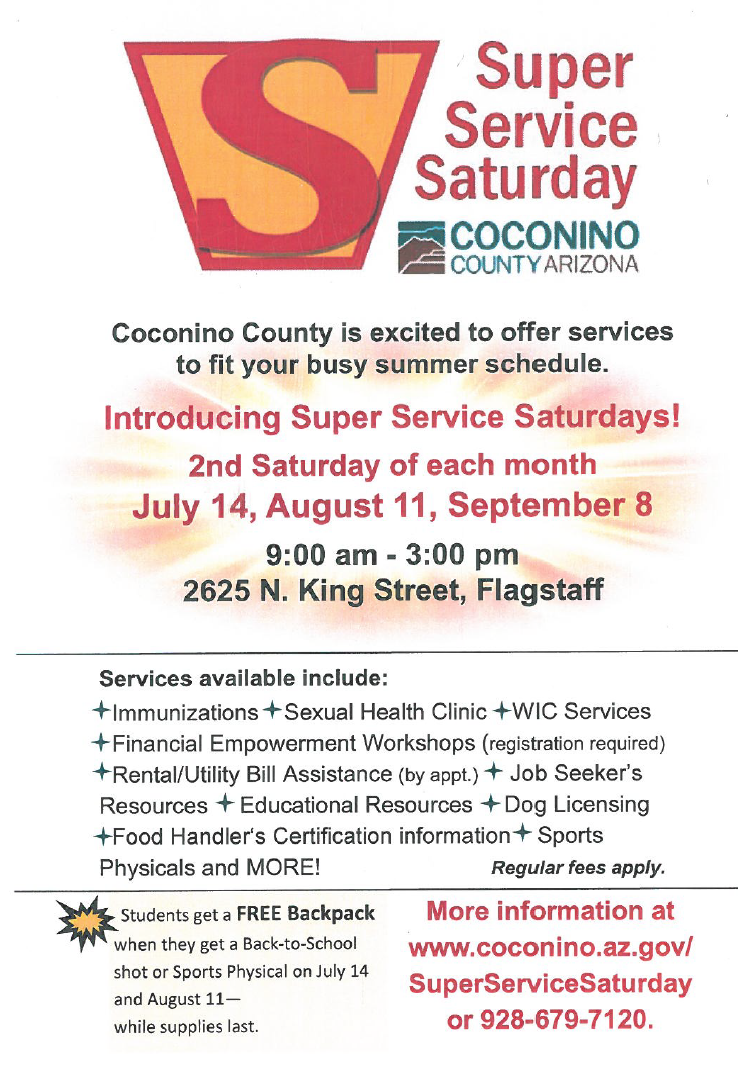 Students get a FREE backpack when they get a Back-to-School shot or Sports Physical on Aug. 11 and Sept. 8 while supplies last.
Services will include:
Immunization
Sexual Health Clinic
WIC Services
Financial Empowerment Workshops (registration required)
Rental/Utility Bill Assistance (by appointment)
Job Seeker's Resources
Educational Resources
Dog Licensing
Food Handler's Cerfication
More
*Regular Fees will Apply
The event will be held from 9 a.m. to 3 p.m. at 2625 N. King St., Flagstaff.
Click here for more information.
***
FREDONIA — The Fredonia-Moccasin Unified School District will hold its Back-to-School Night on Tuesday, Aug. 14 at 221 E. Hortt St., Fredonia.
Contact Alicia McCormick at amccormick@fredonia.org for more information.
Category: General