Adverse Childhood Experiences Training on April 30 to be rescheduled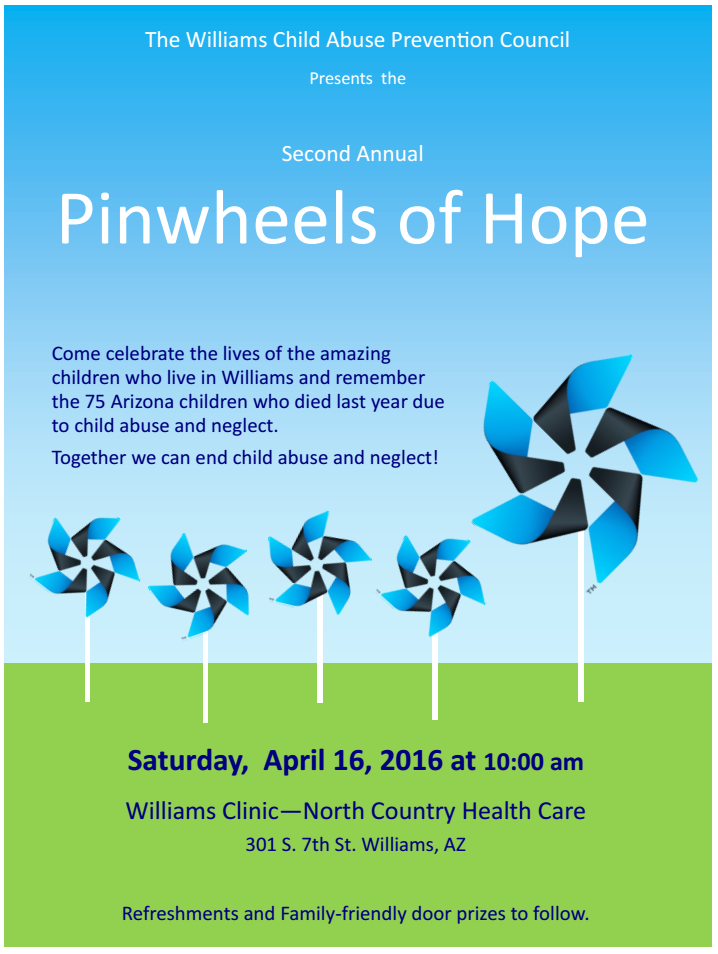 WILLIAMS — The Williams Child Abuse Prevention Council invites the community to join in a celebration of hope – that child abuse can be prevented!
In honor of April as Child Abuse Prevention month, children, families, community leaders and all who can join, are asked to help plant Pinwheels at North Country Clinic on April 16th to recognize the 75 young lives in Arizona that were lost to child abuse and neglect, to honor the ones who survived, and celebrate the children who make up our community.
This is the second year that the CAP council has organized this dedication ceremony to bring hope that all children can have a safe home and supportive community to grow up in.
Yet, for many of our youngest children, reports have shown that children under the age of 3 are more likely than any other age group to be the victims of abuse or neglect. They are also more likely to be removed from their birth parents and typically stay in foster care longer.
In fact, 41 percent of the children in the child welfare system in Arizona are under the age of 5, and, every month, about 1,000 new children are placed into foster care.
Because 90 percent of a child's critical brain development happens by age 5, these negative experiences can have lasting impacts to a child's physical and emotional health, their performance in school and their participation in risky behaviors – such as alcohol and substance use as teens and into adulthood.
As disheartening as these facts are, there is hope. Safe, stable and nurturing homes and communities can break the cycle of abuse and maltreatment and give young children the tools and support they need to succeed in school and in life.
Therefore the Williams CAP council will also host a training open to the community on Adverse Childhood Experiences on April 30th to raise awareness about the effect that trauma and negative experiences in early childhood can have later in life. The ACES training brings to light that quality early childhood experiences, healthy relationships and positive interactions can promote resiliency and stronger families.
Here are some ways to help prevent abuse or neglect and help children in our community:
Prevention and early intervention are key! By working together, we can maximize resources and give more Arizona children the quality experiences they need to be successful in school and in life.
The second annual "Pinwheels of Hope" ceremony will be at 10 am, Saturday, April 16, at North Country HealthCare, 301 S. 7th Street, Williams. Refreshments and family friendly door prizes to follow.
***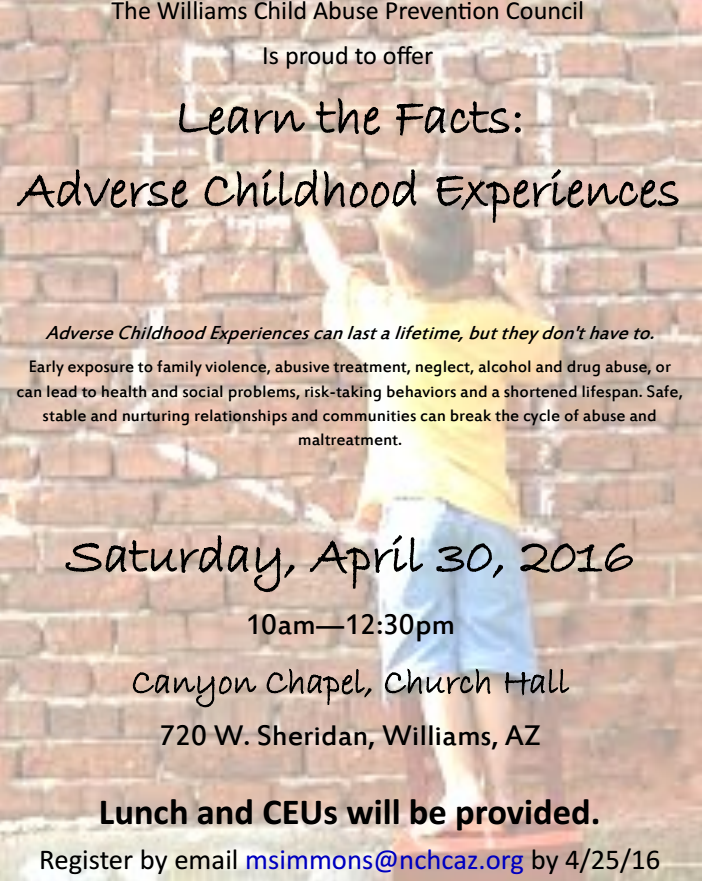 The Adverse Childhood Experiences Training set for April 30 North Country HealthCare will be rescheduled.
Please contact Michelle Simmons at msimmons@nchcaz.org for more information.
Category: Advocacy, Child Welfare, Events