Coconino County Public Health Services District is looking for parents with children under 5 to participate in focus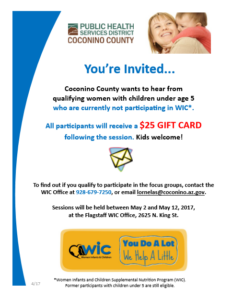 groups. The groups will take place at the WIC Clinic to hear from parents about how WIC can better serve them. All participants will receive a $25 gift card! Kids are welcome!
Groups are open to parents who are NOT currently participating in WIC (including former participants). To find out if you qualify to participate in the focus groups, contact WIC at (928) 679-7250 or email lornelas@coconino.az.gov for questions.
Sessions will be held between May 2 and May 12, 2017, at the Flagstaff WIC Office, 2625 N. King St.
Category: Advocacy, Child Welfare, Events, Health, Programs, Resources