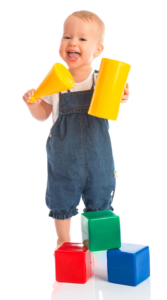 From Children's Action Alliance
Which are the best toys for the child on your gift list this year – is it the latest version of iTablet  with splashy, vibrant colors costing hundreds of dollars or wooden blocks and coloring books that may cost under $20?
According to a new study from the American Academy of Pediatrics, Selecting Appropriate Toys for Young Children in the Digital Era, toys that let kids be physically active or give them hands-on time to learn simple tasks (such as coloring with crayons and markers or building with blocks) and encourage social interaction are the best for young children. 
The study says traditional toys often have the most important qualities for young children and involve: pretend play that gets kids using language skills, such as with dolls, toy animals and action figures; building fine motor development, with blocks, puzzles, or other building toys; and encouraging physical activity, such as with a ball.
So will it be blocks, crayons, a puzzle or a ball this year?
Category: Child Welfare, Education, Health