"Located in the beautiful mountains of Northern Arizona, Building Bridges Youth Farm is a place of hope. At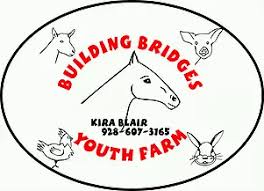 Building Bridges Youth Farm we believe that every child deserves a chance to be successful. We also believe that every child is capable of success when given the right opportunity. Here at the farm, we want to give children the opportunity to learn responsibility, compassion and healthy touch. We also enjoy teaching children the importance of growing their own food and how to do that.
Each of the animals at the farm have a story all their own. Thus, giving the youth someone to relate to. When working on the farm, the youth find that the animals don't care what you look like or what choices you have made. In these cases, they love you unconditionally and for some of the youth that come to the farm, unconditional love is something that they have never experienced. Our mission at the farm is to Nurture Animals; Empower Youth; Strengthen Communities."
Building Bridges Youth Farm is holding their volunteer orientation April 11th from 6:00 pm- 7:00 pm! For more information, follow the link here.
Where: Summit Fire Station
6050 E. Firehouse Lane
Flagstaff, AZ 86004