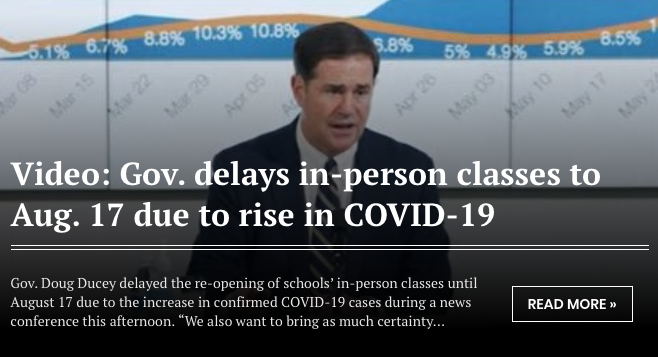 By Lisa Irish • AZEDNEWS • Arizona Education News Service • Arizona School Boards Association
Gov. Doug Ducey delayed the re-opening of schools' in-person classes until August 17 due to the increase in confirmed COVID-19 cases during a news conference this afternoon.
"We also want to bring as much certainty as possible for Arizona schools. Of course, our objective is to educate our kids as best as possible in the safest environment," Gov. Ducey said.
"It is an unfortunate, but necessary decision to delay students' return to their classrooms," said Superintendent of Public Instruction Kathy Hoffman. "But with Arizona's COVID cases hitting new highs every week, it is clearly not yet safe for students and teachers to return to school facilities."
"We'll continuously re-evaluate this target date working closely with Supt. Hoffman with the objective to educate our children safely and successfully," Gov. Ducey said.
Read the full article HERE
See more Arizona education news here:
See more courtesy of the Arizona Education News Service (AZEDNEWS):
Request to Speak:
Children's Action Alliance — You have a voice at the capitol. The "Request to Speak" function is a simple and easy way to contact your legislators right from your own computer. It allows you to share your opinions and comments on bills electronically as they pass through the Arizona Senate and House of Representatives.
Expect More Arizona — Access the legislature's Request to Speak system to make your voice heard on important bills impacting public education. Simply complete this form and Expect More Arizona will set up an account on your behalf.
Category: Education