By the Coconino County Public Health Services District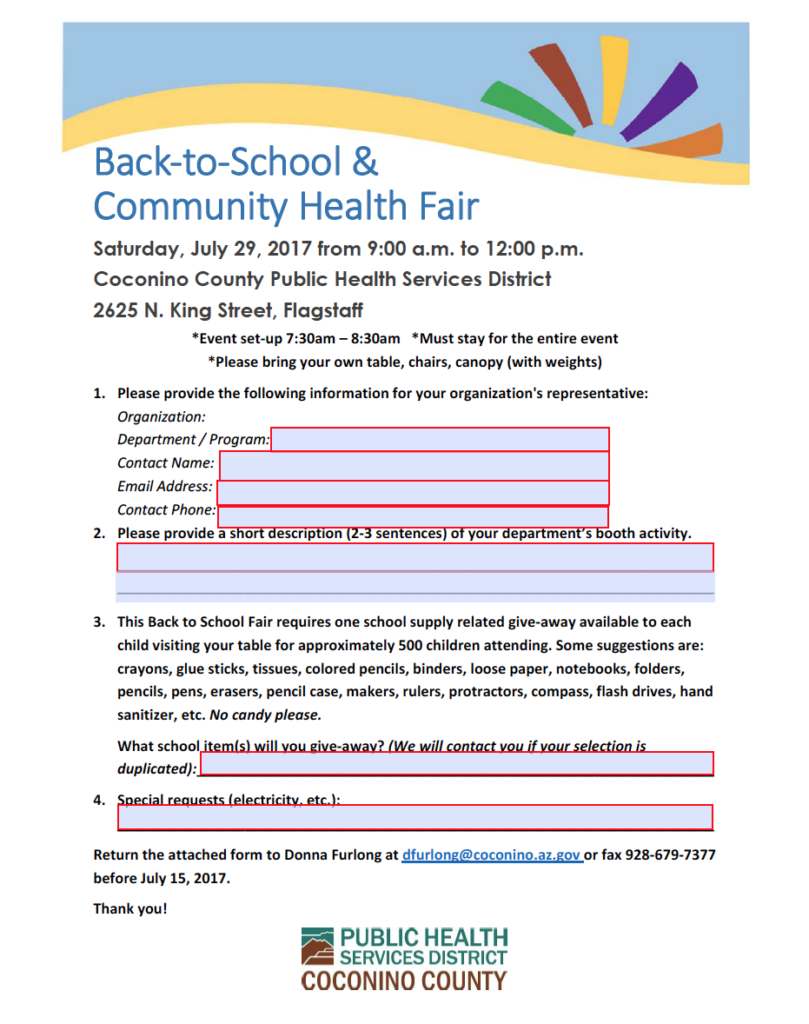 Vendors can now sign up to participate in the Back-to-School & Community Health Fair, to be held from 9 a.m. to noon Saturday, July 29, 2017 at the Coconino County Public Health Services District building, 2625 N. King St., Flagstaff.
The event set-up will be held from 7:30 to 8:30 a.m., with participants required to stay for the entire event.
Participants are asked to bring their own table, chairs, canopy (with weight).
Please provide the following information:
Organization Name:
Department / Program:
Contact Name:
Email Address:
Contact Phone:
Please provide a short description (2-3 sentences) of your department's booth activity.
This Back to School Fair requires one school supply related give-away available to each child visiting your table for approximately 500 children attending. Some suggestions are: crayons, glue sticks, tissues, colored pencils, binders, loose paper, notebooks, folders, pencils, pens, erasers, pencil case, makers, rulers, protractors, compass, flash drives, hand sanitizer, etc. No candy please.
Please describe whatschool item(s) will you give-away? (We will contact you if your selection is duplicated)
Also indicate any special request (electricity, etc.)
Please click on image above, fill out, print and return the attached PDF form to Donna Furlong at dfurlong@coconino.az.gov or fax 928-679-7377 before July 15, 2017.
Category: Education