By the Coconino County Public Health Services District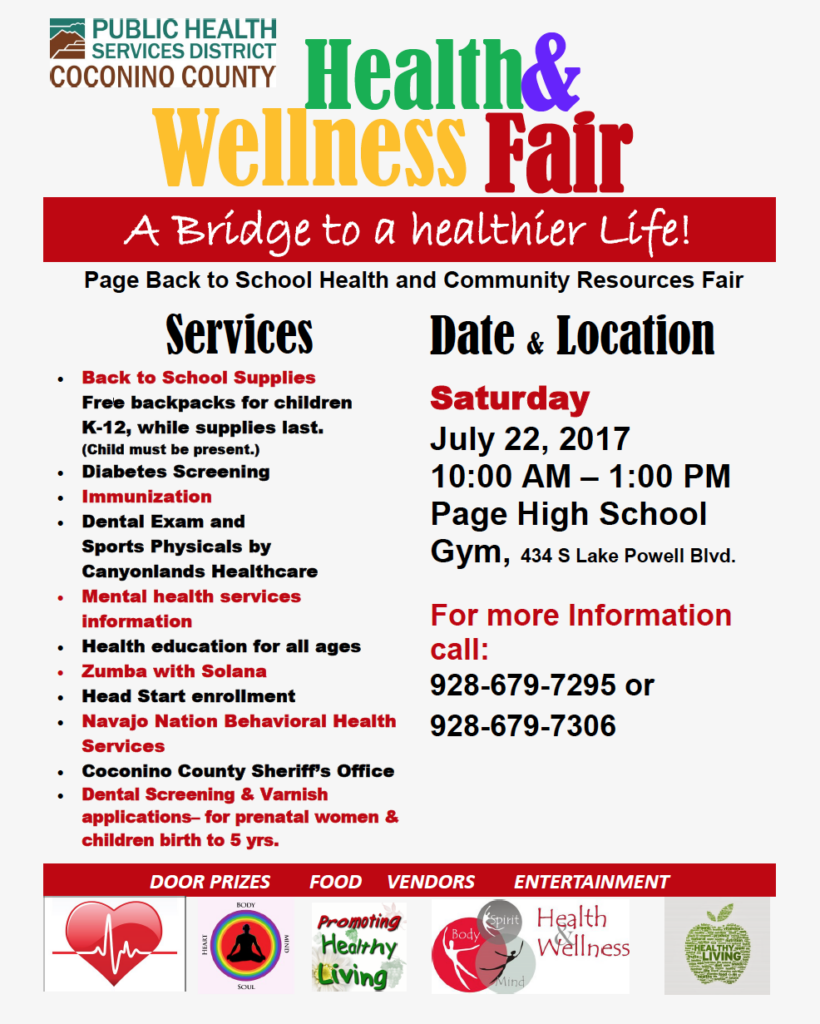 Vendors can now sign up to participate in the Page Back-to-School and Community Health & Wellness Fair — A Bridge to a healthier Life!, to be held from 10 a.m. to 1 p.m. Saturday, July 22, 2017 at Page High School, 434 S. Lake Powell Blvd., Page.
Sponsored by the Page Unified School District and the Coconino County Public Health Services District.
The event features:
Back to School Supplies Free backpacks for children K-12, while supplies last. (Child must be present.)
 Diabetes Screening
 Immunization
 Dental Exam and Sports Physicals by Canyonlands Healthcare
 Mental health services information
 Health education for all ages
 Zumba with Solana
 Head Start enrollment
 Navajo Nation Behavioral Health Services
 Coconino County Sheriff's Office
 Dental Screening & Varnish applications– for prenatal women & children birth to 5 yrs.
Please provide the following information:
Organization Name:
Contact Person and phone number:
Alternate contact person and phone number:
Address:
Email Address:
Contact Phone:
Booth (Please include detail of activities and information your organization will be covering):
Amount of space needed (include number of tables):
Indoor or outdoor activities?
Other special requirements (electrical, individual room, AV, etc)
Please click here, download, fill out, print and return the attached word document to Lola Riggs at lriggs@coconino.az.gov. Call 928-679-7295 or 928-679-7306 for more information.
Category: Education