Back to School Health Fair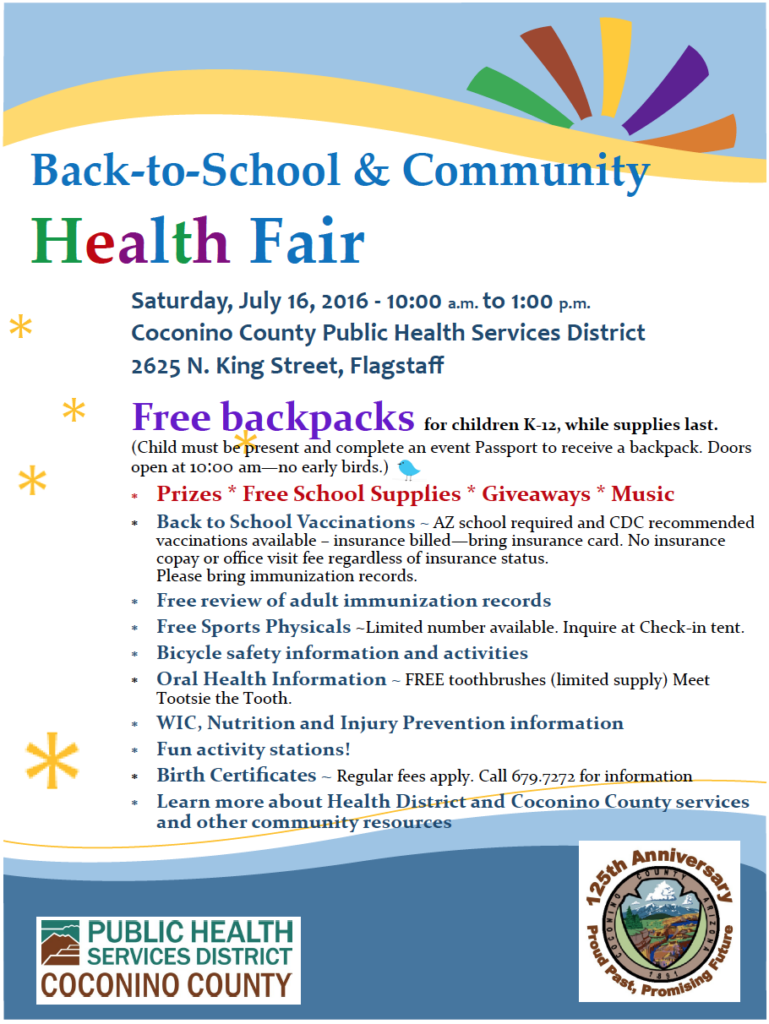 The event features: 
Free backpacks for children K-12, while supplies last. (Child must be present and complete an event Passport to receive a backpack. Doors open at 10:00 am—no early birds.)
Prizes * Free School Supplies * Giveaways * Music
Back to School Vaccinations ~ AZ school required and CDC recommended vaccinations available – insurance billed—bring insurance card. No insurance copay or office visit fee regardless of insurance status. Please bring immunization records
Free review of adult immunization records
Free Sports Physicals ~ Limited number available. Inquire at Check-in tent
Bicycle safety information and activities
Oral Health Information ~ FREE toothbrushes (limited supply) Meet Tootsie the Tooth.
WIC, Nutrition and Injury Prevention information
Fun activity stations!
Birth Certificates ~ Regular fees apply. Call 679.7272 for information
Learn more about Health District and Coconino County services and other community resources
Vendor information:
Event set-up 9 a.m.   *Must stay for the entire event
Please bring your own table, chairs, canopy (with weights)
Click here or here for the vendor registration form, due by June 1, 2016. Returned the attached form to Lucy Walsh at lwalsh@coconino.az.gov or fax to 928-679-8771.
Click here or on the image above for the bilingual event flyer.
Category: Education