FLAGSTAFF — Vendors can now sign up to table at 8th annual event Flagstaff Early Childhood Resource Fair — FREE FAMILY FUN!
The event will be held from 10 a.m. to 1 p.m. Saturday, Sept. 29 at Flagstaff High School, 400 W. Elm St., Flagstaff.
CLICK HERE for the vendor registration form and HERE for more information.
Vendors interested in participating in the fair can send their completed registration forms to earlychildhoodfair@gmail.com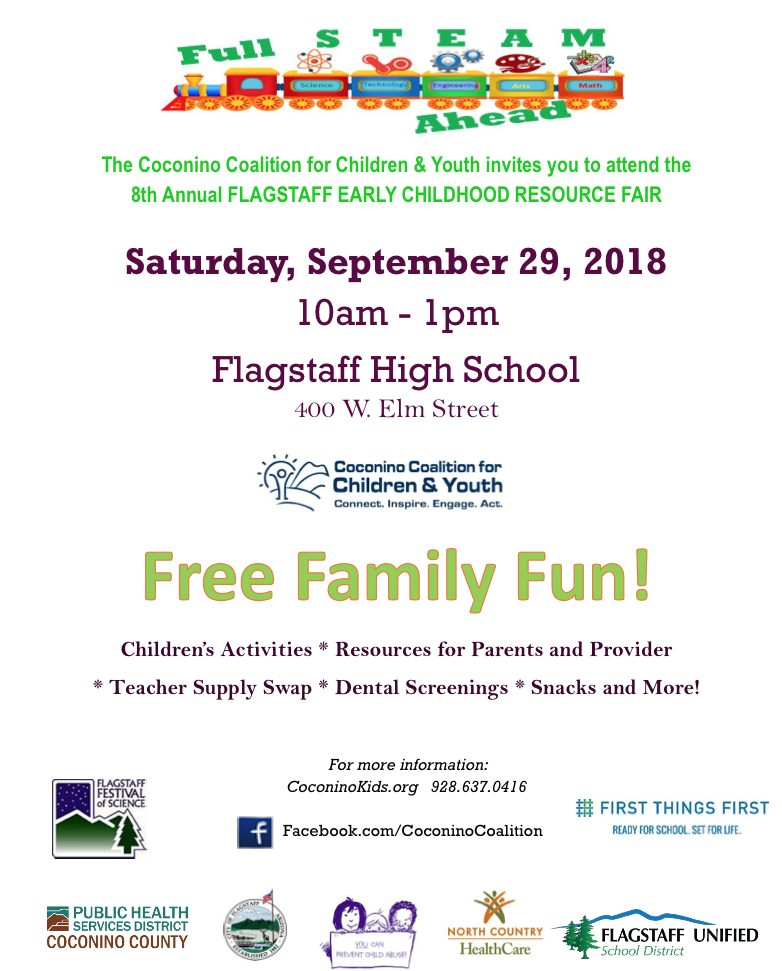 This year, the 8th annual fair is being held in conjunction with the Flagstaff Festival of Science (Sept. 21 through 30).
Full S.T.E.A.M. Ahead! is the theme for this year's fair, which will include children's activities, resources for parents and providers, a teacher supply swap, dental screenings, snacks and more.
The fair is sponsored by the Coconino Coalition for Children & Youth, with the support of the Flagstaff Festival of Science, First Things First, the Coconino County Public Health Services District, the City of Flagstaff, North Country HealthCare and the Flagstaff Unified School District.
There is no charge for vendors to table at this event. Vendors are asked to conduct an interactive activity related to STEAM or provide a service that engages young children, families of young children, and/or early childcare providers that aligns and promotes early childhood best practices.
Category: Education