Building a strong foundation for children from birth to age 5.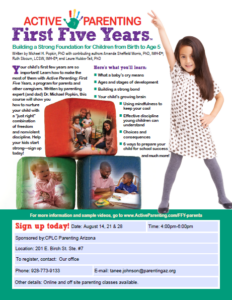 Your child's first few years are so important! Learn how to make the most of them with Active Parenting: First Five Years, a program for parents and other caregivers. Written by parenting expert (and dad) Dr Michael Popkin, this course will show you how to nurture your child with a "just right" combination of freedom and nonviolent discipline. Help your kids start strong – sign up today!
Here's what you'll learn:
What a baby's cry means
Ages and stages of development
Building a strong bond
your child's growing brain
Using mindfulness to keep your cool
Effective discipline young children can understand
Choices and consequences
6 ways to prepare your child for school success and much more!
When: August 14, 21, & 28
4-6pm
Where: 201 E Birch St
Ste #7
To register, contact (928) 773-9133 or tanee.johnson@parentingaz.org
Category: Child Welfare, Educational Opportunities, Resources