Foster Care and Adoption Orientation Information.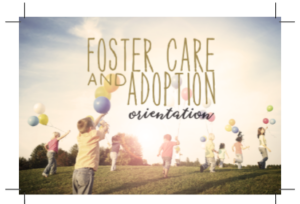 Arizona's Children Association is reaching out to anyone interested in learning more about foster care and adoption options, networking with foster families in the community, and supporting foster children and foster families. Orientation is an introduction to foster care, adoption, and support in Arizona. This AZ1.27 Orientation is done in partnership with all the licensing agencies of Northern Arizona. For more info, visit az127.org.
When: March 6th
5:45pm – 8:00pm
Where: Trinity Heights Church
3600 N. 4th St
Flagstaff, AZ  86004
Facebook Event Link : https://www.facebook.com/events/867246323455770/
Registration Links for families and students to register through (not required but encouraged!) https://arizona127.ccbchurch.com/goto/forms/303/responses/new
No childcare provided, but children are welcome!
Category: Child Welfare, Educational Opportunities, Events, Programs