Dear Community Provider and Juvenile Justice Personnel,   A special  training on "Unleashing the Power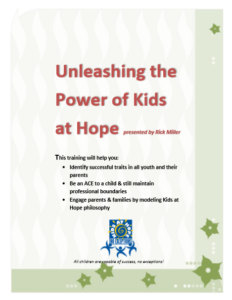 of Kids at Hope," customized to community providers and juvenile justice personnel is being offered on September 12, 2018, from 9:30 a.m. – 1:30 p.m. in Flagstaff, AZ by the Juvenile Justice Services of the Arizona Supreme Court.
The Kids at Hope philosophy recognizes all children, regardless of their circumstances, can be successful and that as adults in their lives we "don't control the risk in a child's life, be we can control their hope."
This training will help you:
Identify successful traits in all youth and their parents
Be an ACE to a child and still maintain professional boundaries
Engage parents and families by modeling Kids at Hope philosophy
Hurry! There are only 20 spaces left for this training! To register, follow the link here https://www.eventbrite.com/e/unleashing-the-power-of-kids-at-hope-in-northern-arizona-tickets-48467339116
Registration password: KAH2018
Day of Event Information:
Sign-in for the training begins at

9:00 a.m.

in the lobby. Training will begin promptly at

9:30 a.m.

Parking at Flagstaff Medical Center (FMC) reportedly is challenging.  Please add a couple minutes on travel time to secure parking.
Lunch is not provided although FMC does allow food in the auditorium if you wish to bring a snack or drink.
Category: Advocacy, Educational Opportunities, Events, Programs