Peace and Peace-Making in our Time: A Conversation with Quaker Peacemaker Nadine Hoover.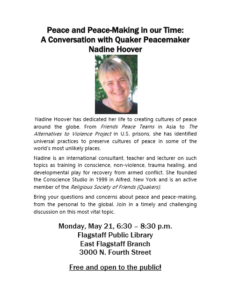 Nadine Hoover has dedicated her life to creating cultures of peace around the globe. From Friends Peace Teams in Asia to The Alternatives to Violence Project in U.S. prisons, she has identified universal practices to preserve cultures of peace in some of the world's most unlikely places.
Nadine is an international consultant, teacher and lecturer on such topics as training in conscience, non-violence, trauma healing, and developmental play for recovery from armed conflict. She founded the Conscience Studio in 1999 in Alfred, New York and is an active member of the Religious Society of Friends (Quakers).
Bring your questions and concerns about peace and peace-making, from the personal to the global. Join in a timely and challenging discussion on this most vital topic.
When: Monday, May 21
6:30-8:30pm
Where: Flagstaff Public Library – East Flagstaff Branch
3000 N Fourth St
Free and open to the public!
Category: Educational Opportunities, Events