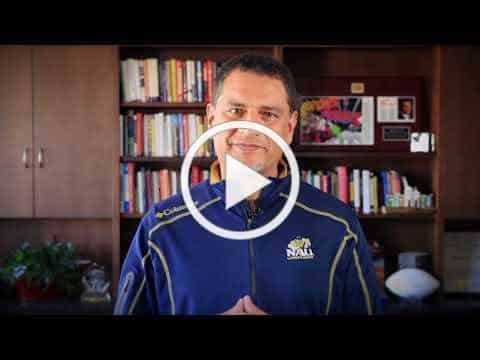 There's no doubt that Northern Arizona University plays a huge role in our community. In addition to being Flagstaff's largest employer, it is the home of thousands of students who live, work and study here.
NAU is also a major player in local philanthropic efforts, including its annual workplace campaign to support United Way of Northern Arizona.
This year, NAU President José Luis Cruz Rivera successfully challenged the university's community to boost its contributions to UWNA, increasing their campaign goal from $25,000 to $35,000.
"NAU stepped up for community and for that I'm grateful," he said.
Because NAU met the new goal, President Cruz Rivera authorized another $10,000 donation from the Office of the President, making NAU's total contribution this year $45,000.
These are funds that will allow UWNA to offer even more support to programs that are improving early childhood education, fostering strong, resilient youth and providing basic services that strengthen our social safety net.
Many thanks to President Cruz Rivera and the entire NAU community for Stepping Up for our youth and our community. If you would like to join NAU in supporting our efforts to make lasting, positive change in northern Arizona, please click the button below and donate today.
Category: Advocacy, Child Welfare, Education, Educational Opportunities, Health, Programs, Resources