The Coconino County Public Health Services District, in collaboration with the Northern Arizona University Center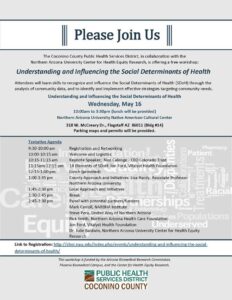 for Health Equity Research, is offering a free workshop: Understanding and Influencing the Social Determinants of Health.
Attendees will learn skills to recognize and influence the Social Determinants of Health (SDoH) through the analysis of community data, and to identify and implement effective strategies targeting community needs.
When: Wednesday, May 6
10am – 3:30pm (lunch will be provided)
Where: Northern Arizona University Native American Cultural Center
318 W. McCreary Dr
Flagstaff, AZ 86011 (Bldg #14)
Register here. Follow the link here or click on the image to the right to see the agenda for this free workshop.
Category: Educational Opportunities, Health, Programs