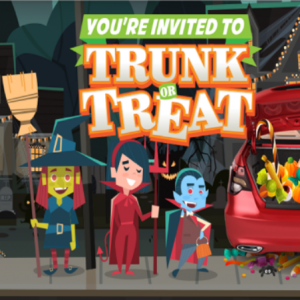 Presented by Flagstaff Nissan Subaru at Flagstaff Nissan Subaru, Flagstaff AZ
Flagstaff Nissan Subaru will host this year's Trunk-Or-Treat event inside its showroom at 4960 E. Marketplace Drive on Wednesday, October 31, 2018 from 4:00 p.m. to 7:00 p.m.
Flagstaff Nissan Subaru today announced that it will be hosting its second annual Trunk-Or-Treat Event. The dealership group also announced that the event will take place inside its showroom, in order to provide families with a well-lit, fun experience, regardless of weather conditions.
Flagstaff Nissan Subaru will be providing vehicles to its event sponsors which will be decorated and filled with candy, treats, and giveaways for the entire family.
Sponsors for this event include Flagstaff Figure Skating Club, Starbucks, the Grand Canyon Association, the Coconino Humane Association, Collins Irish Pub & Grill, CARSTAR Auto Body Repair, and The Arizona Laboratory for Applied Transportation Research (AZ Trans) from Northern Arizona University. The dealer group will also sponsor its own decorated trunk this year.
Free Admission.
When: Wednesday, Oct 31, 2018
4:00 pm – 7:00 pm
Where: Flagstaff Nissan Subaru
4960 E. Marketplace Drive
Flagstaff, AZ 86004
Category: Events