NACOG's Passenger Transportation Study is in full swing and they are actively soliciting the public's input on the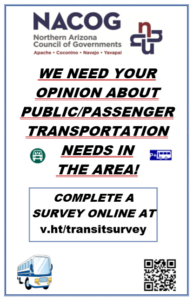 transportation needs in Apache, Coconino and Navajo Counties. The sub-consultants for the study, Southwest Planning and Marketing, recently completed four successful Meetings on a Bus in Show Low, Window Rock, Tuba City and Winslow, along with focus groups in each location. A summary of the Meetings on a Bus will be included in the next Passenger Transportation Study Newsletter (Issue #2), which will be available on NACOG's website and distributed to the Advisory Committee next month.
The second key component to the public outreach for the Passenger Transportation Study is a Transportation Survey. The transportation survey is designed to give members of the public an opportunity to share information about their current transportation choices and needs and to comment on specific improvements they would like to see to transportation services in their community.
Please click here to take the transportation survey: v.ht/transitsurvey.
NACOG's goal for the study is to make it easier for people to get to work, shopping, medical appointments, social activities and tourist destinations in the years to come. The input received through the survey and public meetings will be used to identify improvements to the network of transportation services in the study region (public, private and non-profit transportation services) over the next ten to fifteen years.