Job Posting: Early Childhood Dual Enrollment Facilitator, Flagstaff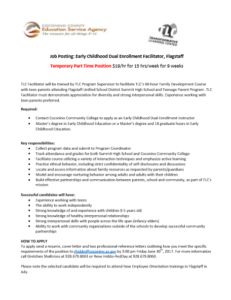 Temporary Part Time Position $19/hr for 15 hrs/week for 9 weeks
TLC Facilitator will be trained by TLC Program Supervisor to facilitate TLC's 60-hour family Development Course with teen parents attending Flagstaff Unified School District Summit High School and Teenage Parent Program. TLC Facilitator must demonstrate appreciation for diversity and strong interpersonal skills. Experience working with teen parents preferred.
Required
Contact Coconino Community College to apply as an Early Childhood Dual Enrollment Instructor
Master's degree in Early Childhood Education or a Master's degree and 18 graduate hours in Early Childhood Education
How to Apply
To apply send a resume, cover letter, and two professional reference letters outlining how you meet the specific requirements of the position to rhobbs@coconino.az.gov by 3:00 PM Friday, June 30th. For more information, call Gretchen Shallcross at (928) 679-8063 or Rene Hobbs-RedDay at (928) 679-8060.
To find out key responsibilities and what qualities a successful candidate will have, follow the link here or click on the picture.