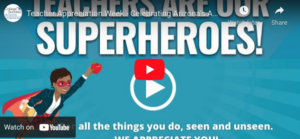 Arizona is extremely fortunate to be home to tens of thousands of smart, caring, dedicated education professionals. And while they have done everything to ensure their students are learning, the global pandemic has taken an incredible toll on the social emotional well-being of teachers, education leaders and school staff. It's Teacher Appreciation Week May 3-7 and while every day is a great time to thank a teacher, now is better than ever.
Advocacy: State Budget Priorities
At the Arizona Capitol, budget negotiations continue to take place behind the scenes and there still hasn't been much progress toward an agreement yet. It is critical that this year's budget include funding that will help the state make progress towards the goals in the Arizona Education Progress Meter. We believe this year's budget, and all future state budgets, should provide predictability, consistency and flexibility for the long-term. The budget must address issues of access and affordability at every level, beginning with restoring the Preschool Development Grant and creating the Arizona Promise Program for our colleges and universities. The budget also should prioritize supporting teachers and students by addressing their social and emotional needs as they recover from the pandemic. Learn more about our budget priorities in our recent blog post: bit.ly/EducationAPriorityInBudget.
It is extremely important that your elected leaders hear from you so they will make education a priority in the budget. Take action now to tell your legislators and the Governor that education should be a priority in the budget and encourage your network to do the same!
Social Sharing
Behind closed doors, Arizona legislators are currently hammering out details of a budget proposal for the next fiscal year. Let's use our voices to advocate for the funding and programs that will help impact the goals outlined in the Arizona Education Progress Meter and ensure ALL students receive an excellent education, every step of the way. #Road2Equity #AZProgress. Learn more: bit.ly/EducationAPriorityInBudget. (Share our posts on Facebook or Twitter).
Helios Adelante Scholars Initiative
In order to address the drop in student postsecondary enrollment in Arizona due to the COVID-19 pandemic, Helios Education Foundation, College Success Arizona and its college access partners (Be a Leader Foundation, College Depot, Earn to Learn, Metropolitan Education Commission and the Northern Arizona College Resource Center) are implementing an initiative to provide 1,000 students an incentive scholarship to enroll in postsecondary education. The Helios Adelante Scholars Initiative will provide a one-time award of $1,000 to students who graduated from high school in May of 2020 but did not enter a college or other postsecondary program. Eligible students can use the funds for tuition, books, or room and board at any accredited higher education institution. Learn more: collegesuccessarizona.org/helios-adelante-scholarship.
Guest Blog
Category: Education, Educational Opportunities, Programs, Resources