THRIVE is a partnership between Northern Arizona University and Northern Arizona Healthcare to facilitate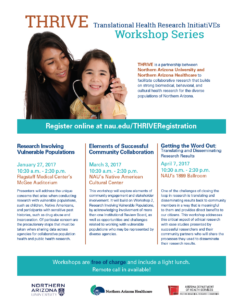 collaborative research that builds on strong biomedical, behavioral, and cultural health research for the diverse populations of Northern Arizona.
Research Involving Vulnerable Populations
January 27, 2017
10:30 am- 2:30 pm
Flagstaff Medical Center's McGee Auditorium
Presenters will address the unique concerns that arise when conducting research with vulnerable populations, such as children, Native Americans, and participants with sensitive past histories, such as drug abuse and incarceration. Of particular concern are the precautionary steps that must be taken when sharing data across agencies for collaborative population health and public health research.