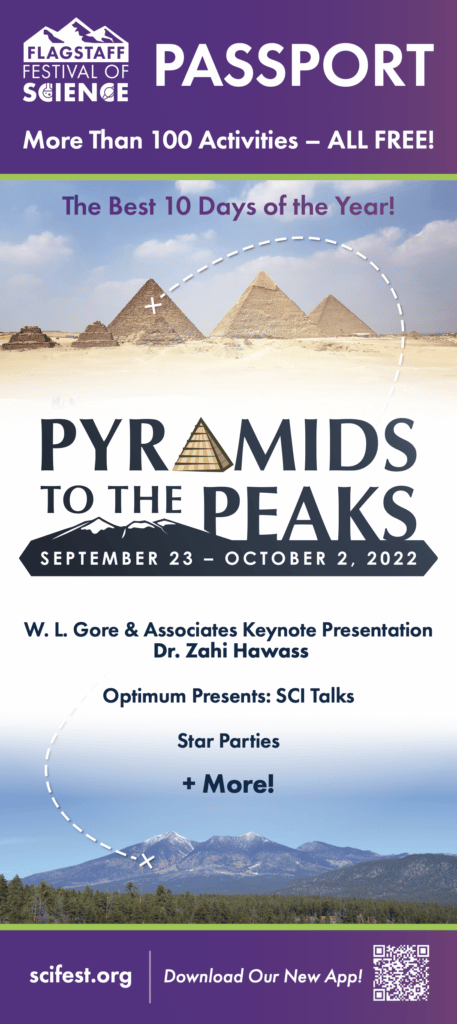 Festival offers more than 100 events in 2022 – something for everyone!
By the Flagstaff Festival of Science
Learn about the unique topics, one-of-a-kind venues and fantastic programs! Download your Passport today! Events include:
W. L. Gore & Associates Keynote Presentation
Mummies, Monuments and Mysteries with Dr. Zahi Hawass
Friday, Sept. 23 | 7 – 8:30 p.m. | NAU Ardrey Auditorium
Journey with legendary Egyptologist Dr. Zahi Hawass into the vast and mysterious kingdom of the ancient world where great pyramids dot the landscape, monuments to the gods tower to the sky and Pharaohs rule the land. Retrace his extraordinary discoveries of golden mummies, hidden tombs, immense riches, and the life and death of King Tut. Follow this fearless archaeologist through the Valley of the Kings, into the Book of the Dead and on the road to the afterlife.
And learn how technology continues to unearth vast treasures, revealing more secrets buried deep in the sand for thousands of years.
Reservation required: scifest.org
In person seats and webinar stream available
***
Snook's Science in the Park
10 a.m. – 2 p.m. Saturday, Sept. 24, 2022| Wheeler Park
Make figurines with clay, play catch with a robot and learn about building model railroads at the 2022 Snook's Science in the Park! Have you ever tried an augmented reality headset, where you can explore the future of spatial design? The fun is endless at our popular family science fair, where YOU are the scientist for the day!
MORE!!!
Category: Education, Educational Opportunities, Programs, Resources