Presented by Theatrikos Theatre Company at Doris Harper-White Playhouse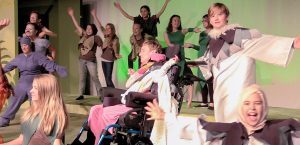 Attention 6th through 12th Graders: Come be a part of Stage Buddies third production: "The Aristocats" by auditioning to be a Stage Buddy on Tuesday, September 5th and Thursday, September 7th from 4-6pm.
Rehearsals will begin on Tuesday, September 12 from 4-6pm and the show runs November 3-5.
Stage Buddies is the brainchild of Viola Award Winner, Areya Kugler. The program brings together children with special needs alongside neurotypical peers, who work together to put on a show. The program is sponsored in part by Quality Connections.
LOCATION
Doris Harper-White Playhouse
11 West Cherry Avenue, Flagstaff, AZ 86001