The United Way is proud to be a major supporter of
LAUNCH Flagstaff
, the unique partnership of community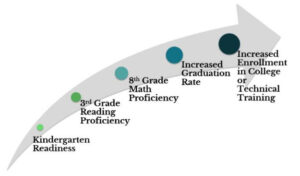 stakeholders dedicated to creating and maintaining a world-class education for all Flagstaff students from cradle to career.
This collaboration, which also receives major funding from the
Arizona Community Foundation of Flagstaff
and
The Wharton Foundation
, is not a new program or service. Instead, it is a diverse group representing schools (preK through graduate school), businesses, government agencies, service organizations, private education providers, non-profit groups, and concerned citizens who recognize that the issues facing our educational system are not just the responsibility of our schools.
"We are providing the infrastructure in which our partner organizations can share resources, share accountability, share successes and have a collective community impact on improving educational outcomes," said Paul Kulpinski, a former FUSD Governing Board member who left his position to take the helm at LAUNCH Flagstaff.
This allows LAUNCH Flagstaff to serve as a clearinghouse for information, data and strategies that lead to continuous improvement of each member's individual work, thus propelling the success of all members.
We encourage you to save the date for two major events LAUNCH Flagstaff will be hosting in the coming months (see "Save the Dates" below).
LAUNCH Flagstaff 101
Where: 1515 E. Cedar Ave. Suite D-1
Learn the basics of the LAUNCH Flagstaff Partnership and how it advances world-class education from cradle to career for all children of Flagstaff, using a framework of collective impact to leverage assets in the community.
Arizona Town Hall – Flagstaff
When: Sunday October 1
Where: Coconino Community College, Lone Tree Campus.
The topic for the 110th Arizona Town Hall is Funding PreK-12 Education. The Flagstaff convening will produce a report of recommendations to the state-wide Town Hall being held in Mesa in November.
Through the consensus-building process facilitated by the Arizona Town Hall organization, the diverse participants of the event will discuss how to best fund PreK-12 education in Flagstaff and Arizona. The goal of the Town Hall process is to build bridges across political, geographical and other barriers while also developing leaders and engaged citizens. Recommendations from past Town Halls have had a significant impact on almost every aspect of the state.
Category: Advocacy, Child Welfare, Educational Opportunities, Events, General, Programs