Teacher Pay FAQ!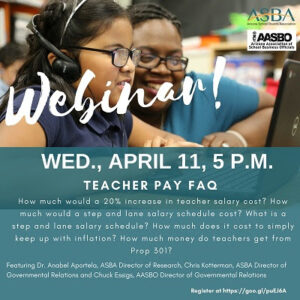 How much would a 20% increase in teacher salary cost? How much would a step and lane salary schedule cost? What is a step and lane salary schedule? How much does it cost to simply keep up with inflation? How much money do teachers get from Prop 301?
Featuring Dr. Anabel Aportela, ASBA Director of Reasearch, Chris Kotterman, ASBA Director of Governmental Relations and Chuck Essigs, AASBO Director of Governmental Relations.
Join Anabel Aportela, Chris Kotterman, and Chuck Essigs to learn about the implications and implementation of a 20% salary increase for our teachers. The webinar is free to join and you can sign up here. 
When: Wednesday, April 11
5pm