Presented by Riordan Mansion State Historic Park at Riordan Mansion State Historic Park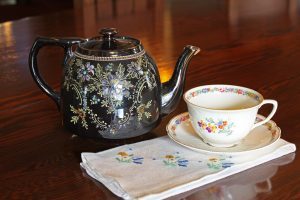 The beauty of the historic courtyard is an ideal location to sip a fine cup of tea and nibble on traditional tea party fare. Feel free to dress in your finest Victorian or Edwardian attire.
Cost: Adults (14+) $20  and Youth (7-13) $10, 10% discount for AHS Members.
When: Sunday, Sep 10, 2017
01:00 pm – 03:00 pm
Space is limited and reservations are required.  For reservations or more information call 928-779-4395. Tea on the Veranda does not include regular tour admission to Riordan Mansion.
"There are few hours in life more agreeable than the hour dedicated to the ceremony known as afternoon tea."  – Henry James, The Portrait of a Lady
Category: Events