In-Home Services help parents manage conflict and stress so that children grow up in a safe, stable home," say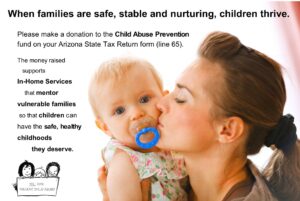 Debra Walgren, Northern Arizona In-Home Services Program Manager. "When we strengthen families, we're ultimately strengthening the whole community."
When families are safe, stable and nurturing, children thrive.
Through In-Home Services, the parents of three young boys received substance abuse treatment, counseling, and help getting connected to other resources, like parenting classes, job-hunting support, and health care for their kids. Today, the parents have the skills they need to provide the nurturing home their boys deserve. They are both drug-free and employed.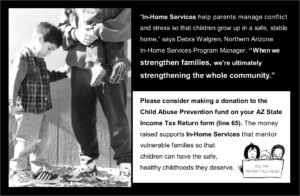 Please consider making a donation to the Child Abuse Prevention fund on your AZ State Income Tax Return form (line65). The money raised supports In-Home Services that mentor vulnerable families to that children can have the safe, healthy childhoods they deserve.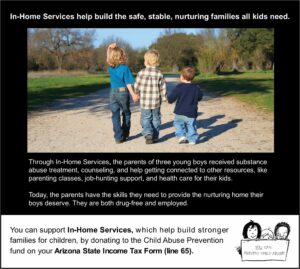 Category: Advocacy, Child Welfare, General