Dental issues are leading cause of missed school days!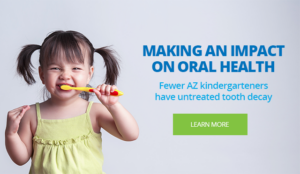 For many Arizona kindergarteners, one of the threats to academic success may not be a lack of knowledge, but a lack of good oral health.
Tooth decay — the single most common chronic childhood disease — can cause lasting harm to a child's health and impact their cognitive and social development. As a child enters school, it can lead to missed school days, inability to focus, anxiety and other factors that a ect academic success.
First Things First partnered with the Arizona Department of Health Services to coordinate a statewide oral health study including dental screenings of 3,630 kindergarten children attending Arizona's public schools and a survey of their caregivers. The study shows that the prevention eff
orts of FTF and early childhood system partners are paying off.
Read more HERE.
Category: Child Welfare, General