Tag: williams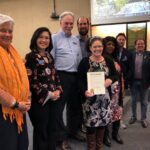 Variety of events planned throughout region including walk in Tuba City on April 4, Field of Hope dedication ceremony on April 5 in Flagstaff.
Child Abuse Prevention Month kicked off in April with the reading of the official proclamation by the City of Flagstaff at its regular City Council meeting on Tuesday, April 2, 2019.
The proclamation was presented to CCC&Y Executive Director Virginia Watahomigie by members of the Flagstaff City Council and Mayor Coral Evans.