Tag: Williams Unified School District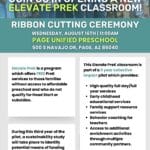 Elevate Pre-K is designed, in part, to be a tool to help working families with young children return to the work force. One of the key components of the Elevate Pre-K program it that students are in school from 7:30 a.m. to 5:30 p.m. Monday through Friday. The program is also year-round. This differs from PUSD's preschool, which runs from 8 a.m. to 3 p.m. Monday through Thursday, and 8:30 a.m. to 1:30 p.m. on Friday. PUSD's preschool also closes during the summer months on the same schedule as the rest of the school district.
"This allows working parents with young children a chance to return to the work force, knowing that their child is in a safe, caring environment," said Beth Giacalone, Program Director of Northern Arizona Programs.