Tag: Williams High School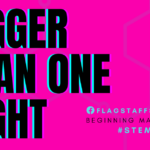 STEM City will be hosting virtual STEM nights beginning on Monday, May 3rd with community partner organizations via the groups' Facebook page, FlagstaffSTEMCity.  Participating organizations are creating science, technology, engineering, arts, and mathematic video presentations highlighting their work in the greater Flagstaff community.  The resources will also be made available to area educators as classroom materials to enhance learning opportunities in area schools.
"Unfortunately, we will not be hosting this event in-person this year," shared STEM City President Mike Thomas.  "We are excited to continue forward with the spirit of this event in a different format, continuing to celebrate STEM in this community, and offer learning opportunities to all that participate."
Organizations interested in participating in the event can contact STEM City at coordinator@flagstaffstemcity.com for additional information.