Tag: Williams High School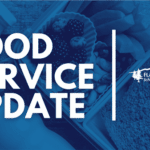 The Flagstaff Unified School District (FUSD) would like to announce the sponsorship of the Summer Food Service Program for children. Meals will be provided to all children, ages 18 and under, without charge and are the same for all children regardless of race, color, national origin, sex, disability, or age and there will be no discrimination in the course of the meal service.
The summer meals program is a federal program. Due to changes at the federal level, we will no longer be able to offer Grab 'N Go meals, parent pick-up of meals, or multi-day meals. Meals must be consumed on site.
Meals will be provided at the following sites, dates, and times: