Tag: Williams Child Abuse Prevention Council Scholarship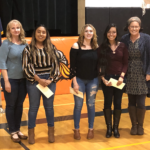 Isabel Cristina Ortiz Salazar believes anyone suffering from abuse should have at least one person "they can trust just enough to tell them about the pain they are going through.
Kascyanna Lowe is planning on using her life experience to help others overcome challenges.
Paola Naselli Belmontes said the key to preventing abuse is helping local parents practice good parenting skills and hopes Williams can create such programs.
Salazar, Lowe and Belmontes are the winners this year of scholarships presented by the Coconino Coalition for Children & Youth's Williams Child Abuse Prevention Council during the recent annual Williams High School Academic Awards & Scholarship Night.