Tag: Vitalyst Health Foundation's System Change Grant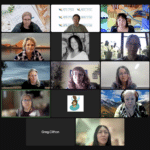 FLAGSTAFF — Members of the Coconino Coalition for Children & Youth's Trauma-Informed System Change grant program met recently to discuss the next steps in developing a mental model change ensuring trauma-informed and resilience information is understood at the City of Flagstaff and Coconino County levels and enacted as policy change. 
The goal of the program is to improve patient engagement, treatment adherence, health outcomes and provider and staff wellness.
CCC&Y will be working with city and county officials to develop, implement and institutionalize the System Change over the next three years as part of its $175,000 Vitalyst Health Foundation's System Change Grant. The Coalition was one of four one of four organizations in Arizona to be selected for the grant this year. 
A workgroup has begun planning on the rollout of the three-year program including raising awareness of trauma and resilience-informed practices at the city and county level through the use of surveys, meeting with leaders and staff training during year one; fine-tuning that awareness outreach and training program during year two; and ensuring those practices are institutionalized into city and county policies and sharing the successes of the System and Policy Change effort with partners statewide.