Tag: Victim Witness Services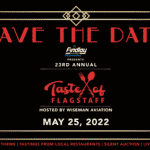 Findlay Honda presents Taste of Flagstaff '22 hosted by Wiseman Aviation. The 23nd annual Taste of Flagstaff! will be held from 6 to 9 p.m. Wednesday, May 25 at Wiseman Aviation, 2650 W. Shamrell Blvd., Flagstaff.
The annual Taste of Flagstaff event celebrates Victim Witness Services' work within the Coconino community. By showcasing incredible restaurants and community partners within a fun and exciting atmosphere we are able to accomplish our mission: To be a source of healing, empathy and support to people and communities that have experienced trauma.