Tag: Victim Witness Services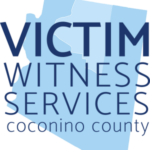 Victim Witness Services for Coconino County is seeking to hire a Victim Advocate in Flagstaff and a Victim Advocate in Tuba City.
Victim Witness Services is looking for victim advocates who can speak for and with victims, who can assist in times of extreme trauma, and who can be the supporter when someone is at their lowest point. We are looking for a team member who believes that each person is their own best expert in their lives and that one of the greatest gifts we can give is when we acknowledge that and support those decisions.