Tag: Victim Witness Services for Northern Arizona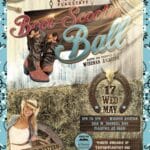 The 24th annual Taste of Flagstaff, hosted and presented by Wiseman Aviation, will be held from 6 to 9 p.m. Wednesday, May 17 at Wiseman Aviation, 2650 W. Shamrell Blvd., Flagstaff.
Howdy Partner!
You're invited to our annual shindig for a night of good grub, drinks, dancin' and a fun silent auction. During this year's Taste of Flagstaff, we will also be celebrating Deb Fresquez's retirement. Deb has been with Victim Witness Services for 17 years and prior with the sheriff's office for another 17 years! Tarnation, we are grateful to Deb and her dedication to our community! Happy trails to you, Deb!