Tag: United Way of Northern Arizona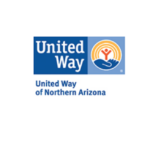 On Giving Tuesday, we come together to support the causes that matter most to us.
This year, I'm asking you to join us and create more opportunities for our communities in Coconino, Navajo, and Apache County to step up for our youth by supporting not only our children, but those who take care of them as well.
An underlying aspect of many of the programs we manage or fund is about being a partner to the parents and guardians who are raising the next generation.
As our Annual Campaign Co-Chair, Flagstaff Police Chief Dan Musselman recently said, "What I'm hearing from my officers is that both parents and youth need additional support and resources."