Tag: United Way of Northern Arizona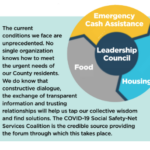 Coconino County has suffered greatly from the coronavirus pandemic. Our residents only make up about 2% of the state, but we have 6% of the COVID-19 cases and 10% of the fatalities attributed to the disease – the highest death rate in Arizona.
Add to that the economic impact of the disease. According to the Bureau of Labor Statistics, the four industries that have been hardest hit in terms of unemployment during this time are hospitality, retail, education/health care services, and government. Those also are the sectors that make up the bulk of our jobs in northern Arizona.
The demands on our nonprofits are unprecedented. Which is why United Way of Northern Arizona established the COVID-19 Fund two months ago, and why we are teaming up with Coconino County to lead the COVID-19 Social Safety-Net Services Coalition.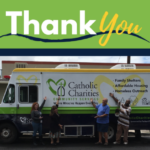 In case you missed it, Catholic Charities, the nonprofit recently named Flagstaff's "Organization of the Year," wanted to share a message with those of you who have given to the United Way of Northern Arizona COVID-19 Fund:
"Thank you."
UWNA recently awarded $15,000 to the nonprofit to help it continue its mission of "helping our community's most vulnerable with solutions that permanently improve lives."
Here's a small list of what Catholic Charities provides every day to assist families and children in northern Arizona:
Recruiting and supporting families providing foster care for children. This is a particularly crucial need; in Arizona, it's estimated there is only one licensed foster family for every four children who need care.
Programs that keep families together and prevent child abuse by helping families identify and make changes to promote safety, health and stability in the home. …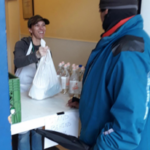 United Way of Northern Arizona has recently awarded a $50,000 grant from its COVID-19 Fund to the Flagstaff Family Food Center (FFFC), a nonprofit meeting the challenges of COVID-19 by adapting how it provides services while dramatically expanding its services to those in need.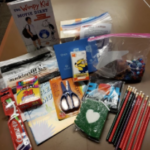 We hope that you are continuing to stay safe and stay positive during these trying times.
To help with the staying positive part, we are very happy to report that grants from the COVID-19 Fund established last week are already going out to recipients.
The first grant, made possible because of your donations, was awarded to the Boys and Girls Club of Flagstaff to help support it's "Club on the Go" bags to keep our kids engaged and active.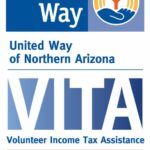 The United Way of Northern Arizona (UWNA) has announced that Volunteer Income Tax Assistance (VITA) services in Flagstaff, Williams, Tuba City, Page, Fredonia, Whiteriver, Kykotsmovi, Keams Canyon and Holbrook have been suspended through April 4 due to concerns about COVID-19.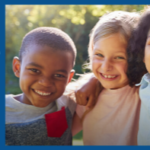 As we announced last month, United Way of Northern Arizona is focusing our Flagstaff efforts so we can Step Up and invest in the Power and Potential of Successful, Resilient Youth . This shift is a re-commitment to those programs and partnerships that assist children from birth through age 18.
Programs like the mentoring provided at Big Brothers Big Sisters in Flagstaff, which is changing the lives of teens who have had brushes with the law, like Brian.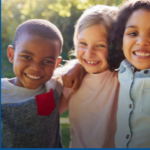 Thanks to all of you who were able to join us for Wednesday's United Way of Northern Arizona luncheon. If you weren't able to attend, we wanted to share with you the exciting announcement about the new direction UWNA will be pursuing – now and in the future.
Welcome to your new United Way of Northern Arizona , where we
Step Up to invest in the Power and Potential of Successful, Resilient Youth .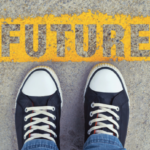 United Way of Northern Arizona — Exciting Changes Are Happening … Join us for Lunch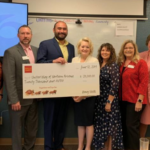 This year's KinderCamp™ classes have just wrapped up, and the program got a terrific graduation present – a $20,000 donation from Wells Fargo.
"We understand the importance of investing in early childhood education for our local youth," said Wells Fargo District Manager Misty Shepherd. "KinderCamp provides a bridge between each child's individual early learning experience and the formal kindergarten program. Wells Fargo is proud to support the United Way and its partners in this summer 'boot camp' that ensures all students are ready on the first day of kindergarten."