Tag: United Way of Northern Arizona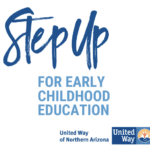 Participants in last year's KinderCamp™ program – and their parents – gave the early childhood education program high marks in a survey conducted by AZ OnTrack.
The survey was completed by 50 children who were part of the KinderCamp program at Kinsey Elementary School in Flagstaff last summer. More than 80 parents also participated in the survey. AZ OnTrack is the state's initiative to help children catch up from learning losses caused by the pandemic.