Tag: United Way of Northern Arizona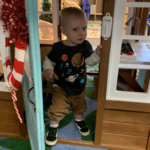 Quality Connections, a United Way of Northern Arizona partner agency, recently opened up a child care program called QCKids at its offices in East Flagstaff. However, as with many things in the era of Covid-19, the launch wasn't quite what they expected.
At first blush, operating child care services might seem a little off-brand for the nonprofit, whose mission is to help adults with disabilities become more independent through employment opportunities, job training and practical life learning programs.
QCKids, however, was designed to align with the organization's goals as it would provide training for Quality Connection clients who wanted to explore careers in child care. The added benefit was the new service would be targeted to underserved populations – low-income families and those with children who have disabilities.