Tag: U.S. Education Department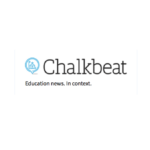 In New York, Texas, and a slice of the rest of the country where data is available, teachers and other staff where school buildings are open have higher COVID infection rates than their surrounding communities.
Critically, the data does not show whether teachers caught the virus in schools, or offer definitive answers about the risks of school reopening. It's possible the results reflect more widespread testing among teachers, and the evidence that remote teachers have lower infection rates is mixed. But the latest data complicates our understanding of the risks of school reopening.
"The fact that the staff rates are growing at a faster rate than the community rates is something we should be paying attention to," said Emily Oster, the Brown University researcher who spearheaded the analysis and collection of this data.

Fourteen million students attend schools across the U.S. where they walk the halls with police but don't have access to a counselor, nurse, psychologist or social worker, according to a new ACLU report released Monday.And of the schools that do provide students access to mental health professionals, about 90 percent fail to meet the minimum staff-to-student ratio, which the report found can mean one school counselor is responsible for dealing with more than 400 students.