Tag: U.S. Census and children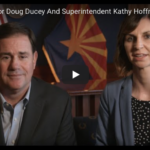 Dear Arizona families, educators, school leaders, and education community members,
In our roles as Governor and Superintendent of Public Instruction, we stand united in working with you to keep Arizona's kids, families, and school communities safe and healthy.
Over the past few weeks and in coordination with public health officials, we have been in close communication with school administrators to provide guidance and be a resource as it relates to the recent outbreak of COVID-19. The health and safety of all our students is our top priority, and we've worked hard to keep our school doors open — these are important assets in people's lives and many families rely on them for nutrition and access to health care.