Tag: Tuba City Child Abuse Prevention Council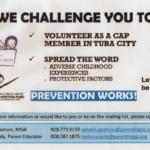 We would like to hold our next virtual meeting through Microsoft Teams, next Wednesday the 27th, from 12-1 PM Mountain Standard Time. We will be discussing council updates and our continued efforts for spreading child abuse prevention awareness in the community. Please let us know if you have any questions or concerns. We hope to see everyone there! Please follow the link below when the meeting starts.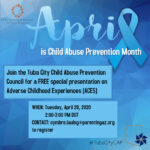 The Tuba City Child Abuse Prevention Council will hold aFREE presentation on Adverse Childhood Experiences (ACES) from 2 to 3 p.m. Tuesday, April 28.
Contact cymbre.lauing@parentingaz.org to register.